Active Atom Mascot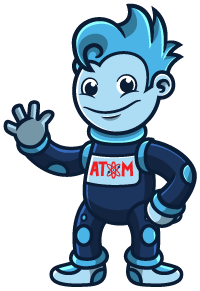 A Message from our Mascot Atom
You Found Me!
Ok you tapped the secret spot at my power source and figured out how to find me at Active Atom, I am impressed and pleased to meet you as you are of an intelligent life-form.

Hi my name is Atom or you can just call me A-T-O-M. I am not a boy nor girl, I am an alien sent to help two friends on a journey. I am a mix between a Virgo and a Pisces, so I am both smart and witty.

My friends Patrick and Lance, sent for me nearest the end of the last annual travel calendar cycle from a place in the depths of time (2017), take that string theory. It is appearing as though these close friends are from out of this world, they might be and you are the judge of that as I Atom, is sworn to secrecy.


My Mission Here
The mission I am here to accomplish is to guide these two childhood best friends along the road of making very precision things out of futuristic materials.
The unique thing about this mission is that Patrick and Lance are going to be making there products on machines from the distant past, through to machines of current times. This time period is a thing earthlings call manual mechanical and computer numerical controlled or CNC mechanical parts making. (i.e. vintage and leading edge machines)
Both forms of making the products require the use of very high tolerance precision machining equipment and tools. This allow these earthlings to perform tasks producing products from the very start (design) all the way through until they are completely finished (assembled, tested and packaged).
The parts made here across the street from an alien port (airport) are beamed to people awaiting this style and type of precision made products.
I am here to see to it that each product is made to the highest quality and precision, and serialized to confirm that they are only produced for special people and some alien friends.
Your alien friend,
A.T.O.M.
Active Atom Mascot